While Historic Jacksonville, Inc. cannot offer physical guided tours at this time, we can still share Jacksonville's fascinating history on-line, so welcome to our virtual "Walk through History" tour! Each week we'll visit a new location as we trace Jacksonville history through its businesses, fraternal orders, churches, and public buildings from the discovery of gold to the coming of the railroad. Join us as we visit government and commercial buildings, fraternal lodges, and homes that capture the stories of Jacksonville's National Historic Landmark District and the people who transformed a gold rush town into Southern Oregon's 19th Century social, governmental, and commercial hub.

Stop #1
---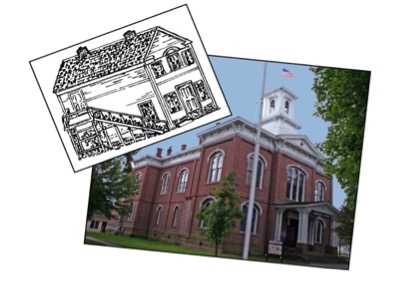 The Jackson County Courthouse –
Jacksonville City Hall
Jacksonville began in the 1850s as a gold boom town, full of miners, settlers, merchants, and women of ill-repute all seeking a quick fortune. It quickly grew into the largest town in Southern Oregon, and the hub of regional commerce, society, and government for half a century. In fact, the block on Fifth Street, between C and D Streets, has been the site of County, and now City government from at least 1859.
The imposing two-story brick and stone Italianate courthouse that is now Jacksonville's new City Hall was formerly Jackson County's historic courthouse. It was declared the crowning glory of Jacksonville when it was constructed in 1883-84. Read more.
 
Stop #2
---
The Historic Jackson County Courthouse –
Trial of the DeAutremont Brothers
In 1927, the Jacksonville Courthouse had one last glory moment before the county seat was moved to Medford—the trial of the DeAutremont brothers, Hugh and twins Ray and Roy. Four years earlier, they had staged a train robbery which turned to murder. The press had dubbed it the Siskiyou Massacre and the West's last great train robbery. It attracted nationwide attention and involved a three-year man hunt extending to Mexico, Canada, and the Philippines.
On Thursday, October 11, 1923, as Southern Pacific Train Number 13 emerged from Tunnel No. 13, the three DeAutremont brothers stopped it … Read more.
 
Stop #3
---
Jackson County Jail
The historic Jackson County Jail, now the home of Art Presence at 216 North 5th Street, stands on the site of three previous jails, each with its own fleeting, and sometimes haunting, history.   The original jail was built in the 1850s, probably at the same time as the original courthouse.  While all we know about that building is that at least one prisoner was able to escape1 (the beginning of a trend, as we shall see), we can imagine that when it was replaced, it was not in much better condition than the first courthouse, described in Stop 1 of this tour.
The second jail structure was built in 1875, a sturdy brick building reinforced with "4,000 pounds of iron spikes for strength."  Seven inch thick wooden planks lined the masonry walls and separated the cells.2   While these improvements didn't stop the escapes,3 … Read more.
 
Stop #4
---
St. Andrew's Church

The Methodist Episcopal church building at 305 North Fifth Street, now St. Andrew's Anglican Church, is one of a handful of churches claiming the title of "Oldest Protestant Church West of the Rockies." It certainly was the first church built in Southern Oregon and is the oldest church building in Oregon in active use for church services.1 It is also the oldest original wooden building in Jacksonville. … Read more.
 
Stop #5
---
St. Joseph's Church

Our next stop is St. Joseph's Catholic Church, at 280 North Fourth Street in Jacksonville.   Shortly after the discovery of gold here in 1852, Rev. James Croke celebrated the first Catholic mass in town at the home of Charles Casey.1 In 1855, Father Croke reported to his Archbishop that he had counted 105 Catholics in the Rogue Valley alone, and in 1858, town founder James Clugage again came through for the religious community, deeding this parcel of land for the use and benefit of the Catholic Church in exchange for $5. … Read more.
 
Stop #6
---
Historic Presbyterian Church

Let's wrap up the "houses of worship" portion of our virtual tour with a stop at the historic Presbyterian Church at the corner of California and 6th streets.
One of the most beautiful churches in the valley, this church was the culmination of the hopes of the small contingent of Presbyterians in Jacksonville led by William Hoffman. For many years prior to its construction, they had been holding their services in the Methodist church, the local school, and homes. Pioneer William Hoffman, his wife Caroline, and their six daughters came across the Oregon trail in 1853 from Indiana to Jacksonville. … Read more.
 
Stop #7
---
Amanda and John Bilger House

Let's head over to 540 Blackstone Alley, the site of the beautiful Bilger House. This is a private residence, so we'll be sure to respect the privacy of the current occupants. You might say they won't even know we're here.
As you can see from the photographs, this home is a two-story of brick construction, one of the first brick private homes in Jacksonville, and was completed in about 1863 by Patrick Fehley and our old friend, David Linn…. Read more.
 
Stop #8
---
B.F. and Anna Dowell House

From Blackstone Alley and the Bilger House, let's make a right on East F Street and walk one block to the intersection of East F and North Fifth. The majestic Italianate structure at 470 North Fifth Street was the home of Benjamin Franklin Dowell and his family.
Benjamin Franklin Dowell, named for his famous ancestor, built this house in 1861, and as you can see from the first photo, it originally had a flat roof. While most homes in Jacksonville at that time were heated by stoves, … Read more.
 
Stop #9
---
Obenchain/Lewis/Keegan House
Next, we'll head across Fifth Street two blocks to Third and D and the Minnie Obenchain Lewis/Chris Keegan House at 105 East D Street.
A later addition to the homes here in Jacksonville, this rectangular one-and-a-half storied wood frame house was constructed around 1908.  It is one of only four residences in Jacksonville with board and batten exterior sheathing.  Neither the builder nor the architect is known. … Read more.
 
Stop #10
---
Matthew G. Kennedy House
Let's turn left now and walk down to the Matthew G. Kennedy House at 240 North Third Street. This is believed to be Jacksonville's oldest residential structure still in existence. The original portion of the house is believed to have been constructed in 1855, and no later than 1856. The eastern addition was made in the late 1880's and was used as a summer kitchen. The front porch was likely added at that same time. … Read more.
 
Stop #11
---
Thomas Kenney House
While we make our way to our next stop, let's talk a bit about the family who made their home there. Daniel Moe Kenney arrived Jacksonville in early 1852. Shortly thereafter, James Clugage , one of the town's founders, gave Kenney the lot on the northeast corner of California and Oregon Streets, where Kenney opened the town's first store with a man named Appler. … Read more.
 
Stop #12
---
Gustav and Johanna Karewski House
In October 1866, Dr. E.H. Greenman purchased the northwest corner lot at California and North 5th Streets from C.C. Beekman. By 1868 Dr. Greenman was the county coroner (which makes for a good story if this were the Haunted History tour) and had bought additional lots in the block. That same year Dr. Greenman erected a rectangular home on the present site, the core section of what is known as the Karewski house. … Read more.
 
Stop #13
---
Max and Louisa Muller House
Like Gustav Karewski, Max Muller came to Jacksonville from Germany, married, raised his children and made his life here. His home at 465 East California is our next stop.
This lovely Italianate-style home (or, according to some sources, "High Victorian Italianate") was built in 1887. It is one of the few surviving homes in the (James) Poole and (Henry) Klippel Addition to Jacksonville, platted in 1868. In 1883, Max Muller bought the lot with an existing small house from Edwin Smith. … Read more.
 
Stop #14
---
Thomas G. and Lucinda Reames House
Almost directly across the street from the Max and Louisa Muller house (Stop #13) was the home of the Thomas and Lucinda Reames family at 540 East California Street. While many details are characteristic of the Queen Anne style, the earliest portion of the house was probably constructed around 1864 and consisted of a simple rectangular structure with a north facing porch across its length. As Reames prospered and grew in prominence, the house grew along with his public stature and family size. … Read more.
Stop #15
---
Cornelius C. Beekman House
Let's walk across Laurelwood to 470 E. California Street and the 1873 home of Cornelius C. Beekman. 
Beekman and Reames were not only neighbors, they were also business partners until Reames' death in 1900. With the Beekman House, the Reames House, the Muller House and other California Street homes no longer standing, we are on Jacksonville's pioneer equivalent of "millionaires' row," homes of self-made men who built their fortunes in Jacksonville. … Read more.
Stop #16
---
St. Mary's Academy and Beekman Square

Let's stroll a block west on California Street to another site with Beekman's name on it—Beekman Square—which, ironically, was never part of Beekman's property. This time we're paying a virtual visit to a virtual site—the second home of St. Mary's Academy. 
St. Mary's Academy was established in 1865 after Rev. Francis Xavier Blanchet, priest of St. Joseph's Catholic Church (Stop #5), asked the Sisters of the Holy Names of Jesus and Mary to open a school in Jacksonville. In August of that year, Sister Mary of the Seven Dolores, Sister Mary Febronia, and Sister Mary Zotique arrived from their convent in Montreal. … Read more.
Stop #17
---
G. W. Cool/Minerva Armstrong House

The saltbox style was popular during the Colonial period and an architectural staple in New England where dead space under the eaves provided insulation during the cold winters and a sloping roof line shed excess snow. Saltbox architecture was seldom seen west of the Mississippi, and, although this 1858 structure does incorporate some Classical Revival features, this was the only "saltbox" built in Jacksonville to our knowledge.
Known as both the G.W. Cool House and the Minerva Armstrong House, its provenance is somewhat murky. … Read more.
Stop #18
---
DeRoboam House

Let's cross back over East California Street and walk a few doors west to the 1893 Queen Anne style house at number 390. It's known as the DeRoboam House, and some people think it belonged to Jacksonville's well-known hotel proprietress, Madame Jeanne DeRoboam Holt, who owned both the Franco-American Hotel and the U.S. Hotel. However, the DeRoboam in this case was her brother, Jean St. Luc DeRoboam—or more accurately, her brother's second wife, Henrietta Schmidling DeRoboam. And there is quite a back story to this structure! … Read more.
Stop #19
---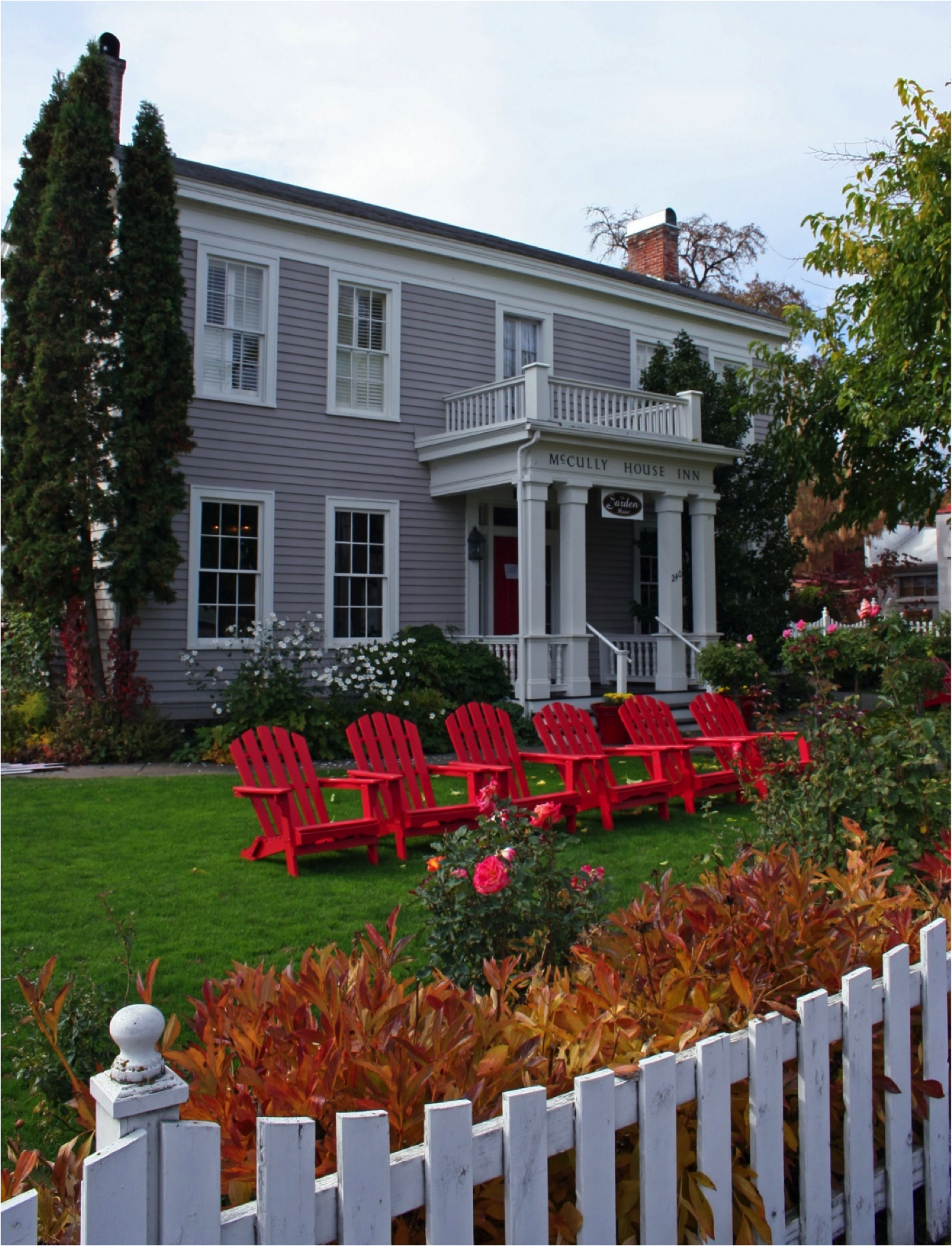 McCully House

Let's continue west across South 5th street to the 2-story Classical Revival-style McCully house at 240 E. California Street. When it was completed in December 1861 by builder Ludwig Hartwig, it was one of the most expensive and palatial residences in Jacksonville—based on the number and value of the liens placed against the house for John McCully's indebtedness!
Both John Wilmer McCully and his wife Jane Mason McCully were influential figures in the commercial and cultural development of Jacksonville. They were among the first settlers to arrive in Jacksonville in 1852 following the discovery of gold. … Read more.